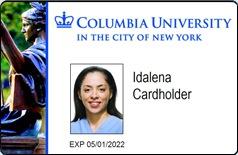 University ID Facts/Features:
One ID Card per Person - You only need one card, even if you have multiple roles or work on more than one campus (for example, if you work at Columbia and study at Teachers College).

University ID Card Designations

Your ID card lists all of your roles at Columbia or affiliated institutions. This is prefaced by: CU, BC, TC, or UTS followed by your role designation: Student, Employee, Officer, Visitor, Library Member, Retiree, Service Tech, Alumni, or Member (Dodge Fitness Center).
Access: 
ID Card general access and privileges
Building Access: Access is determined by your role and affiliation with the university.  If you are experiencing difficulties with access please contact Public Safety at Low Library
Requesting additional card access: Public Safety has created a new set of web forms that will enable you to more easily submit requests for some of our key services, including swipe access to academic buildings.Visit for more information: https://publicsafety.columbia.edu/content/forms
Many buildings on Columbia's campus are only open to members of the Columbia community and their guests. Access to these buildings is generally obtained either through showing or swiping one's University ID card.
Passport to Museums: The Passport to Museums program was relaunched in the fall of 2005, by the Provost's Office, Student Services, and the CU Arts Initiative. This program grants free access to participating museums to Columbia students who present a University ID card with a valid term enrollment sticker. 
Vending Machine Purchases- University ID card can be utilized for on campus vending machines using flex dollars only
Lerner Hall Access
All Columbia University students and employees are automatically granted access to Alfred Lerner Hall. If you have any questions about the access policy, or want other information about the facility, please visit the Alfred Lerner Hall website.
Dodge Fitness Center Access
Not all Columbia University students are automatically granted access to the Dodge Fitness Center (DFC). For more information about access to the facility, please check out Dodge Fitness Center access, or if you want other information about the facility, please check out the Dodge Fitness Center website.
If you are experiencing problems or have questions read detailed information pertaining to Dodge Fitness Center trouble-shooting procedures.
Purchases/borrowing: 
Dining Plans, Dining Dollars, and Flex Accounts
For detailed information about Dining Plans, Dining Dollars, and Flex Accounts, please visit Dining.
Dining Dollars: Provides access to dining services all over campus (available to enrolled students only).

Flex Account: An individual additional dollar amount that can be used on and off campus for goods and services ie. campus bookstore, dining services, and restaurants etc.  For more details please visit the Dining website (available to enrolled students, faculty, and staff).
CU Bookstore Purchases
You must have flex dollars on your flex account to make purchases at the bookstore with your University ID card. Please verify if the transactions are available for flex account purchase/transaction(s). 
Library Borrowing Privileges 
The Library Information Office in 201 Butler administers borrowing privileges based on registration or employment status.
While all Columbia University, Barnard College, Union Theological Seminary and Teacher's College students and most employees are granted borrowing privileges automatically, certain libraries may have their own borrowing restrictions.
Vending Machine Purchases
You may use your flex dollars via your University ID card at any on campus vending machine. If the campus-wide Flex system goes off-line, Flex purchases cannot be processed. However, vending machines will accept cash/coin and/or credit card sales.
Laundry Center Purchases
You may use your flex dollars via your University ID card at many campus laundry facilities. If there is a problem within the card swiping system campus-wide, the message, "Laundry Center Closed" will appear on the reader. When this happens, purchases using the Flex Account will be disabled, but coin sales will still be accepted.